Cheddar's at 4009 South Loop 289 Lubbock
Date visited: 2-22-13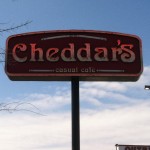 Wait time:  0 minutes
Service:   I was promptly seated and greeted. The drink order were taken and brought to me within minutes. The food delivery was quick.
Food quality:   The food portions and quality was good.
Review:    When I got there the place was at one third capacity. The Cheddar's in Lubbock has had a history of ups and downs. It seems like the place is run well and then it goes down and then it's up again. It is sometimes hit and miss for service, cleanliness and food quality. This time it was good.
Rating: 3 out of 5 stars.