Carino's at Slide and 69th Lubbock
Date visited: 1-14-13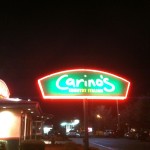 Wait time:  0 minutes
Service:   We were promptly seated and greeted. The drink orders were taken and brought to us within minutes. The food delivery was quick.
Food quality:   The food portions and quality was excellent. Everything was fresh.
Review:    When we got there the place was packed. It was family night at Carino's with family platters half price every Monday night. We ordered the chicken Parmesan with vegetables instead of pasta minus the mushrooms and salads. Everything was to our order, and the price was excellent because it was half-price Monday night family night.
Rating: 5 out of 5 stars.