ZooKini's at University and 84th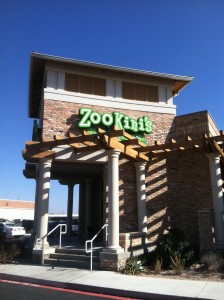 Date visited: 1-13-13
Wait time:  15 minutes
Service:  It took forever to be greeted and have our initial drink orders taken, waiter was not completely familiar with the menu and prices, we finally got our initial waters after we'd started eating our main meal.
Food quality:  Most items on the salad bar was old such as tomatoes were wrinkled/shriveled, melons were turning color, zucchini turning colors and most fruit and veggies in bad condition. The spinach and lettuce was crisp. The steamed veggies I received seem to be dehydrated rubber as well as a small small portion. The chicken fried steak was good. Portions were small.
Review:   When we got there we had to wait 15 minutes to be seated and during that time I noticed 7 empty clean tables with no one sitting at them. What were we waiting on? It just didn't seem like quality cooking. It was apparent that most of the staff was not properly trained but we did see the manager at the very end. For the medium price point it was not worth it. I could have had one week left-overs and it still be just as good. The outside of the building looked very promising but once you entered the restaurant it looked like a plain café with not much seating available.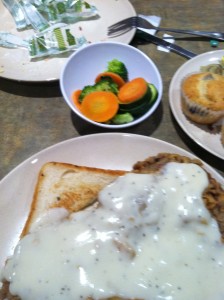 Rating: 1 out of 5 stars.