[dt_row ][dt_column column="12″][dt_text_html spy="none" scroll_delay="300″]
Teddy and Jacks Hub City Grill
7205 Milwaukee Ave, Lubbock, TX 79424
Date visited: 9-7-2015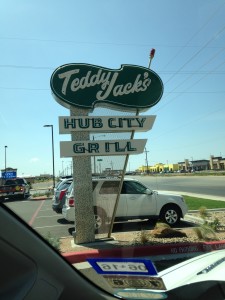 Wait time:  0 minutes
Service:   I was promptly seated and greeted. The drink orders were taken and brought to me within minutes. The food delivery was medium on the time and it wasn't packed.
Food quality:   The food portions and quality was good but a bit salty.
Review:    When I got there the place was at two thirds capacity. This is a fairly new restaurant in the West side of Lubbock, probably open since the beginning of August 2015. I've heard from others that the food they had wasn't so good. But I can't rate it on their experience, only mine. I ordered a burger and it was good.
Rating 3 out of 5 stars

[/dt_text_html][/dt_column][/dt_row]