This was our most popular Biodiesel Processor.
Due to the low sales activity of Biodiesel Products, I make this processor on a special-order-purchase only.
Makes approximately 70 gallons of Biodiesel at a time.
It includes:
85 gal. reaction tank
15 gal. mixing tank
1500 watt in-tank heater
Electrical switching for the heater
12 Hr. timer switch for the reaction pump
Output filter
(Drywash system installed add $450)
Manual Methanol barrel pump
All required hoses
Safety mask, Scale, Respirator, Chemical Gloves, Titration kit
Dimensions 34"deep x 50"wide x 60"tall
ALL FOR $2395 Ready to start? CALL Scott at 806-535-2265
(Processor may vary slightly from picture).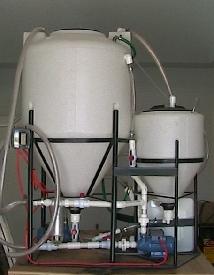 AVAILABLE NOW:
Drywash system includes 7 lbs. of Purolite Ion Beads, necessary hardware and hoses for installation.
Dimensions are 12" wide x 2.5' tall.
Clearance Price $475 Ready to start? CALL Scott at 806-535-2265